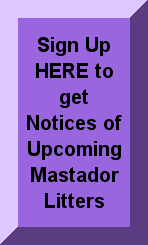 where puppies are people too

Passion lounging around on the retaining wall  waiting for the tomatoes to ripen

Smarite as a pup - my little doll.




The Mastadors love helping out with ranchwork, workshops, & lessons.

The Life of Our Mastadors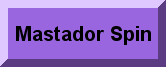 Potty Training starts are about 3 weeks old.  At  about 5 weeks old they learn to use the puppy door, potty outside, 

& have outside playtime

We understand that when bringing a new puppy into your home - you want to know that it came from a good and loving environment.  We take our motto "Puppies are People Too" to heart.  I hope the photos and videos below give you a good idea of what life is like for our Mastadors.

Daisy, Candy, n Misty -

 Who Doesn't love a good nap on the couch.

Or in front of the fireplace.  There is usually at least one dog camped out here during the winter.

Smartie and Oliver like to watch themselves on TV.

Play time with the puppies

When they were kids - 

Oliver showing Smartie how to cool off 

Chickee guarding the tomatoes

Tootsie going for a fresh tomato

Blaster is the Dad that started it all

Mocha is the Mom - with Winnie our first Mastador

The puppies love to hang out on the front porch.  Its a great way for them to learn stairs aa the steps are wide and the risers are lower than most stairways.

Watching Luka train Horses.

Lots of beds to choose from.

Cookouts on the Big Porch

The parents of our first Mastador litter.