See Puppy Page for Available or Upcoming Litters

To Apply for a Puppy: 

Copy and paste your Application with responses to my email

Other details about reserving a Puppy are on the   Reservation page.
For more info email or call: 320-267-8034

We have been raising English Mastadors since 2008.  

Our Mastadors are pets, family raised in our home from Health Tested Parents.  All adult dogs and puppies and are part of our family, live in the house, and have 80 acres to explore. 

We love our dogs and raise our Mastador Puppies in our home, 

where we can provide the best love, care and attention.  

The puppies are well-socialized, learn to use 

doggie door, and well on their way to being house/potty trained.

Our puppies have found their way into the hearts and homes in 43 states & Canada: Alabama, Alaska, Arizona, Arkansas, California, Colorado, Connecticut, Delaware, Florida, Georgia, Illinois, Indiana, Iowa, Kansas, Kentucky, Maryland, Massachusetts, Michigan, Minnesota, Missouri, Montana, Nebraska, Nevada, New Hampshire, New Jersey, New Mexico, New York, North Carolina, North Dakota, Ohio, Oklahoma, Oregon, Pennsylvania, Rhode Island, South Carolina, South Dakota, Texas, Vermont, Virginia, Washington, West Virginia, Wisconsin, Wyoming

2015 Mastador Puppy (Bromley) Reserved

Oliver x Winnie

where puppies are people too

Transportation:

 by Car to your Area in the U.S. or to the Canadian border - we have AMAZING drivers who provide love and great care to the pups.

or 

You can Pick Up - either Drive or 

Fly in to Msp and take your puppy back as carry-on or checked. 

Air Shipping only available if there is no other option.

Puppy choices:

(many times litters are pre-sold before they are born) choice goes first to those who are approved and have paid options and reservations, then to those with paid reservations in the order that they are received by me.  If any puppies are unspoken for - then to those who have signed up for Mastador News List. 

I welcome your phone calls and emails. Also Please take a look at the other pages of our website as many of your questions are answered here.

customized and Personalized 

Mastador Products.  

Special customized items by request.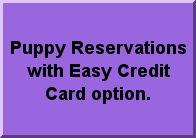 They have the best traits of both the English Mastiff and the Lab. The good health, cheerful, friendliness and social qualities of the Lab, combined with the laid-back demeanor, and the affectionate desire for close physical contact from the English Mastiff wrapped up in a package that is smarter than both.

Mastadors are very gentle, loving, loyal, social, easygoing dogs that get along well with other dogs and animals, babies and children.  

They will let you know if something is amiss

and will protect your family if necessary.  

Low Maintenance:

They do NOT drool.

Minimal Shedding.

Easy to Train.

We consider the Mastador the 

"perfect family breed"!

Most of our Mastador Puppies are 2nd or 3rd Generation (both Parents are Mastadors)  5/8 English Mastiff and 3/8 Lab for that perfect Mastador Mix.  We also have  50/50 or 40/60 & 25/75 Mastador Puppies.

Click on the edge of the photos to bring up a larger photo.


You are welcome to come see the pups & meet the parents - or we have a wonderful driver that can deliver right to your door.

  Many people have asked about our next litters:  

To complete your application, make your Deposit and Reserve your Choice - go to the 

Available Puppy page.  

Mastadors are English Mastiff x Labrador Retriever mix ONLY.  

The percentage of English Mastiff to Labrador Retriever can vary but Lab mixes with other types of Mastiffs or other Breeds are NOT Mastadors.